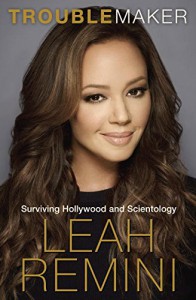 "The outspoken actress, talk show host, and reality television star offers up a no-holds-barred memoir, including an eye-opening insider account of her tumultuous and heart-wrenching thirty-year-plus association with the Church of Scientology.

Leah Remini has never been the type to hold her tongue. That willingness to speak her mind, stand her ground, and rattle the occasional cage has enabled this tough-talking girl from Brooklyn to forge an enduring and successful career in Hollywood. But being a troublemaker has come at a cost.

That was never more evident than in 2013, when Remini loudly and publicly broke with the Church of Scientology. Now, in this frank, funny, poignant memoir, the former King of Queens star opens up about that experience for the first time, revealing the in-depth details of her painful split with the church and its controversial practices..."
❖ ❖ ❖
"But that was the policy of the church. You were either all in or all out. It is an extremist religion. There is no middle ground. And there within its structure lies the danger." - Leah Remini
In Troublemaker, Leah Remini takes the reader on a candid tour of her life, from her childhood in Brooklyn, New York through her days as a well-known actor in Hollywood. What ties all of her experiences together was her time as a member of the Church of Scientology. Indoctrinated at the age of 10, Remini remained a devout member for more than thirty years.
One of the things I loved most about her book, aside from the in-depth look we get into the inner workings of the Church of Scientology, is Remini's honesty. She talks honestly about herself, in all her flawed glory. Of course, some of that honesty comes from Remini trying to pre-empt the Church from exposing certain aspects of her past to the public. The Church has been known to intimidate and try to discredit former members who expose their disturbing practices.
The other part is her bravery in coming forward. It's not easy to confront such a seemingly powerful cult as the CoS, as well as someone as powerful within the hierarchy of the Church, and entertainment industry, as Tom Cruise. But she did it, and I admire her for that.
I also admire her honesty in acknowledging how hard turning away from the Church was for her. As she explains:
"After thinking a certain way, and being told what to think based on strict policy for more than thirty years, learning to think for myself and make my own choices did not come easily, nor did it happen overnight. Now, more than two years after cutting ties with the church, I'm still trying to figure things out."
She speaks about going to therapy, which is frowned upon in the church, in order to deal with the guilt and other the emotional aspects related to the split and having to face a new way of life.
Written in a conversational style, Troublemaker makes for a fast-paced read that is never boring. If you're interested in learning more about the Church of Scientology, then I highly recommend Troublemaker: Surviving Hollywood and Scientology.
Final Rating: 4 stars